Trackability of Seco (6405-12) Nodal Point Mini Prism by Leica Robotics Total Station
When I got my first robot, I felt that I wouldn't need to spend the money for a 360° glass.  Well, it's just about impossible to keep a single retroreflector pointed constantly at the instrument.  Turn away even for a few seconds, and lock is lost and time is wasted reorienting the target and waiting for the instrument to reacquire the target. 
I have a couple of mini prisms similar to the Seco (6405-12), but prefer one like this: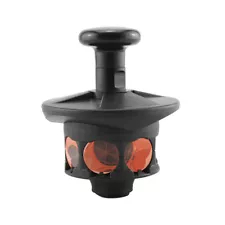 for stakeout.  Fairly close tolerances can be met by using care in orienting the prism.
Any experience of the trackability of Seco 360 deg. prism (6401-00-YEL)? As it is a Seco product, I would think it is of good quality and cheaper than Leica 360 deg prism as well. The prism design as an array/assembly of 6 individual glasses provides a feeling that there would be dead spot(s) around the prism.